Michelle Buvala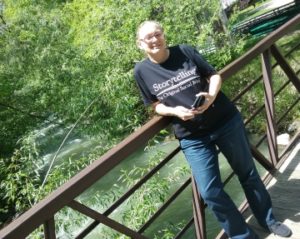 Some people are born with the great gift to create with their hands. Michelle Buvala is one of those people. Whether she's helping children create fun, wearable art or growing fresh vegetables in her garden, her family and friends are amazed by her creativity and ability to create something good from the simplest components.
In her life, she has worked in many places, from the excitement of the toy store to the daily challenges of the classroom. She's an avid desert gardener and a founder of the local community garden in her city.
In addition to her work as an illustrator for our projects here at The Small Tooth Dog, Michelle has begun to create a series of ACEO (Art Cards, Editions and Originals) miniature artworks inspired by folk and fairy tales. You can see these affordable and original works of art featured on her website. ACEOs allow anyone to own affordable, easy-to-display works of art.
Michelle holds a degree in Elementary Education from the Arizona State University. She is the founder of the The Mesquite Tree Studio in Avondale, Arizona.
Michelle is active on Instagram at https://www.instagram.com/themesquitetreestudio/.
Michelle's Books:
The Fox and the Crow: Art and Stories Inspired by Aesop
Apples for the Princess
"Michelle's Merry Christmas Adult Coloring Book"