Sean Buvala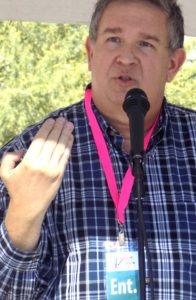 Sean Buvala has been engaged with storytelling and communication since 1986. He started his work by accidentally using active storytelling to convert a classroom of slightly (but comically) homicidal 8th-grade teenagers from angry kids to storytelling practitioners themselves. From then on, both the kids and Sean were sold on the influence of a great story.
From kids in classrooms to bosses in boardrooms, from presenting workshops for global salt miners to consulting with Ph.D.'s in pharmaceuticals, Sean has told and taught stories in nearly every industry and setting. He's been the boss (and janitor) of a non-profit organization and is currently the publisher and chief janitor at The Small-Tooth-Dog Publishing Group LLC.
Along the way, there has been some award-recognition and the authoring of a growing pile of books, articles, audios, and videos. Traveling internationally (meaning that he's been to Canada), he makes his home in Arizona with four young-adult kids and one wife.
Sean is a recognized expert as a storytelling practitioner and get-you-focused coach. You'll appreciate his down-to-earth approach as he uses the world's oldest art form to teach you to memorably engage your audience and build up your business, classroom or life's focus.
Find Sean at Twitter.
MEDIA Resources for DaddyTeller