Icons of Fairytales Adult Coloring Book
Our first-in-the-series adult coloring book inspired by great stories, featuring hand-drawn icons and fun, graphical coloring pages. Get on the mailing list over there >>>>> to get the latest updates, etc.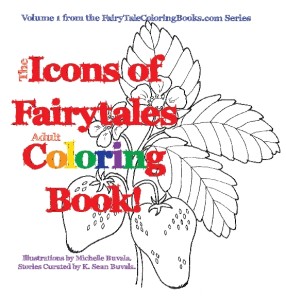 A Unique Adult Coloring Book!
"Icons of Fairytales Coloring Book" contains hand-drawn icon illustrations as well as fun patterns based on those illustrations. The icon pictures, such as the bear, duck, frog, sword and all the rest are influenced by folktales, fairytales and fables from all over the world. Created with pen and ink, you'll find a few full-size pictures within this fun adult coloring book.
Need some stress relieving? Patterns, (ranging from very easy to very complex) you see in this book were computer-created by directly from the icon illustrations. Each of the patterns comes from some piece of the icon. For many of these, it is easy to figure out which part of the icon was used. For others, you'll have to really search and see if you can identify which part of the icon is used in the pattern.
The full-page patterns bend and magnify pieces of the icons, so the naturalness of the ink on paper may create some rough lines or breaks in the pattern. This is intentional and is part of what makes this coloring book unique. We hope you like this book as much as we enjoyed making it for you.
The quotes on each page are snippets from a world-tale or other great story.
Find the "secret page" in the book to learn how you can download some free goodies, too.
Get Your Copy Now!
At the CreateSpace Online Store
At Amazon.com
Other Information
Publication Date: Nov 26 2015
ISBN/EAN13: 0692589236 / 9780692589236
Page Count: 54 (about 24+ illustrations)
Binding Type: US Trade Paper
Trim Size: 8.5″ x 8.5″
Language: English
Color: Black and White with Bleed
Related Categories: Crafts & Hobbies / Papercrafts