Merry Christmas Adult Coloring Book
A Christmas-Themed Adult Coloring Book!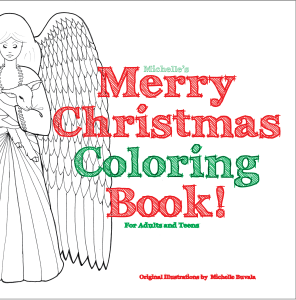 Merry Christmas! This book of over two dozen hand-drawn illustrations shows the fun and joy of Christmas. As some say coloring books are great for stress-relieving, patterns inside include angels, trees, teddy bears, toys and more. There are even a few pages where can fill in the outlines to create your own holiday masterpiece.
Designs are printed on one side of the page. You can use most coloring tools but we especially suggest colored pencils or the like.
Coloring. Christmas. Contemplation.
Get your creative juices flowing. We can't wait for you to share with us how inventive you can be with Michelle's lovingly-crafted designs.
Have some fun and get this great coloring book. Order several for family and friends.
Get One Here:
At CreateSpace
At Amazon.com
Free Coloring Page
Get a FREE coloring page at this link now!(.pdf file) Add your name to the mailing list over on the right-hand side of the page for more goodies as we release them. >>>>
See the Video!
Other Information:
Publication Date: Nov 30 2015
Publisher: The Small-Tooth-Dog Publishing Group (Arizona)
ISBN/EAN13: 0692591796 / 9780692591796
Page Count: 58
Binding Type: US Trade Paper
Trim Size: 8.5″ x 8.5″
Language: English
Color: Black and White with Bleed
Related Categories: Crafts & Hobbies / Papercrafts