Don't Throw Me in the Cholla Patch!
Don't Throw Me in the Cholla Patch!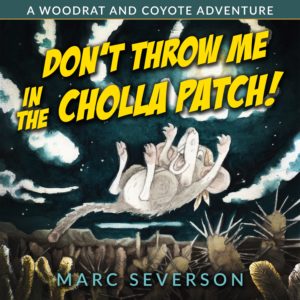 Woodrat has a problem. With 10 hungry packrat-baby mouths to feed, he knows he must go out to find food for them. The moon is full, which means it will be far more dangerous, with ravenous predators looking for an easy meal. Now, with an almost empty cupboard, brave Woodrat has no choice but to venture out into the night, intent on finding something for his family to eat.
Waiting for him out in the dangerous Sonoran desert is an equally-hungry coyote looking for a meal of his own. With Woodrat firmly in his clutches, the coyote is ready to make him the first snack of the night.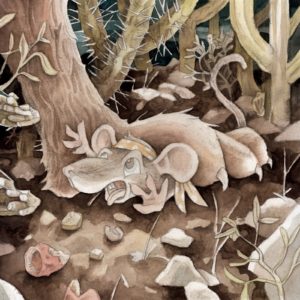 But Woodrat has a plan that might just save his skin. Can he talk fast enough and be clever enough to outwit the devious coyote and save his young family from unspeakable danger?
Ask your local bookstore to order one for you via "Ingram" or "Ipage."
Find it at all the online booksellers.
Get yours in our store at this link now.
Grades 4-6. Ages 10-12.
Author: Marc Severson
Illustrator: Francesco Orazzini
Paperback, 32 pages. 8.5×8.5 inch.
ISBN: 978-1947408067
Library of Congress Control Number: 2019933607