Birds! Bugs! Beasts with Wings! / Aves! Insectos! Bestias con Alas!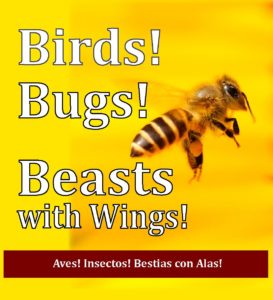 Explore the world of living things with wings in this fun book for the young child.
Bright photos are matched with simple sentences and rhymes.
En Inglés y Español.
Tips for parents included, too.
It's a cute little picture book for parents and caregivers to read with a small child, but it's really a tool for growing literacy in the young child! The keys to early literacy: read the words, look at the pictures, ask questions, talk about what you see.
Published by "Under the Stone Publishing," an imprint of The Small-Tooth-Dog Publishing Group LLC.
Written by Lillian H. Wren
Edited by K. Sean Buvala
Available:
In our online store at this link!
Your local bookstore. Ask them to order via the "Ingram" system.
Kindle™ (Link)
Paperback (Link: At Amazon)
8.5×8.5 inch
ISBN: 9781947408128
Hardback (Out of Stock)
7×7 inch Square limited edition
ISBN: 9781947408043
Covers may vary from edition to edition.