Cooperatives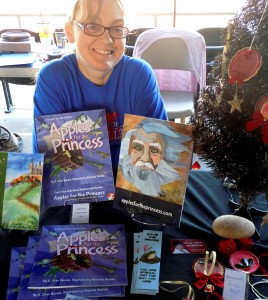 Co-Ops: Vendor-Show Cooperative Advertising

Do you have a book, not published by us, that you'd like to see promoted at a festival or convention?
Working a vendor show at a festival, convention or a "con" can be tiring, challenging and expensive, especially when you have just one or two books. However, we're experienced at these shows and we have the personnel and supplies needed. Why not let us do the work for your book for a fraction of what it would cost for you to do it yourself?
We invite you to consider placing your high-quality book(s) at some of our upcoming shows.
Here are the general guidelines:
We'll be promoting, displaying and selling your book at our booth at the show listed. We use elevated, upright wire displays so your book will be facing the crowds.
Your book will be given both group and individual promotion across all our Facebook and Twitter accounts before and during the event. Please like, repost and retweet when you see them! We'll tag you, too.
You'll be listed on our sales sheet with your book title, author name, and website address. These will be in the "Doggie Bags" listed below as well as handed out (in most cases) to all interested parties.
In most cases, we'll need 5-10 copies of your book, signed by the author.
For best results, your book(s) should be priced at $10 (including the tax) or under (in even dollar amounts) if you actually want to sell any at these types of events. Whatever the price you set, you'll get 85% of that cost back to you for each book that sells. This percentage allows us to pay the taxes or other fees. (Example: You'll get $8.50 for each book that sells for $10) Checks or online payments will be sent to you within 10 days of the show's conclusion. As we are the vendor, we pay the correct sales tax to local authorities as needed.
Optionally, we'll need a number of give-away items from you such as bookmarks, postcards, sell sheets, pens or the like. The amount needed varies from show to show. We will give away a limited number of the "Doggie-Bags" to participants of each event.
You do not need to be present at the shows or booth. If you would like to join us, just let us know and we'll schedule something with you. If the show involves any type of admission charge, you are solely responsible to buy and obtain your own tickets or badges if you decide to attend the show.
In most cases, we offer workshops and classes at the shows we attend. This attention pushes people back towards our booth and to your product.
Books that remain unsold can be returned to you, at your expense, via postal mail, but you'll need to prepay the actual shipping charges. If you do not want them returned, your books will be donated to local family shelters and charities. We'll be in touch after the show to let you know your options.
Disclaimer: Every single vendor event is different, even at the same convention from year to year. There is simply no guarantee that you will sell any books. Look at the event's website and see if your book is a good match for that event before you buy our services. We are financially invested in the success of our time at any vendor show and we want that for you as well. Please note that the sponsors of any of these festivals or conventions are not affiliated with this offer or with us and no endorsement by them is implied or should be inferred.
All sales on this site are handled by our shopping-cart company "gethelium.com." In most cases, you will see a pop-up page to complete your order.
Upcoming Shows:
Please note: when you click on the buy buttons or links, you will be taken to our processor at gethelium.com. Don't be alarmed.
StoryRise Goodyear. (Ongoing November 2018 to March 2019). Your book will be present at the sales table for these outdoor events at the Goodyear Branch Library. We suggest 5 signed copies of your books and 50 Doggie-Bag items. The cost to participate is $59 per title. This is an ongoing show and your books, once we receive them, will be shown at each show and carried over each event. If your book sells out, we will contact you for additional copies. Books must be in our office no later than one week before each event. See storyrise.com for dates. Note: payment for your books (if any) will be made to you at the end of the season, on or about April 1, 2019. Buy for StoryRise 2018/19 Now
Tempe Book Festival, November 3, 2018. Presented outdoors at the Tempe Public Library in Tempe, AZ. Provide us with 5 signed books and (optionally) 100 Doggie-Bag items. The cost to participate is $29 per title. Books and items MUST in our office by November 1, 2018. Buy for Tempe Show Now
Mesa Book Festival, December 8, 2018. Presented outdoors at night in old-town Mesa, Arizona. Provide us with 5 signed books and (optionally) 100 Doggie-Bag items. The cost to participate is $29 per title. Books and items MUST in our office by December 1, 2018. Buy for Mesa Show Now.
After you make your purchase, WAIT for us to contact you with further instructions in an Email. Follow the instructions before sending your books and materials. Then, those items are accepted only via USPS or another professional delivery service. No drop-offs to our office, please. Get a tracking number of your shipment of items, please.
Our address for materials is:
Sean Buvala
Small Tooth Dog Publishing LLC
10375 W Granada Road
Avondale, AZ 85392