New Indie Reader Approved Book: My Expansion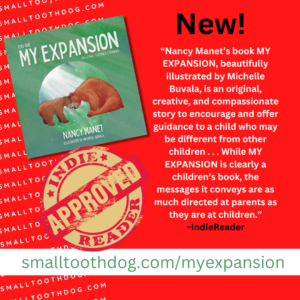 Here's today's news! For our "My Expansion" book, we are honored and humbled to receive a 4-star review, and a "Indie Reader Approved" status today from IndieReader. Congrats to Nancy Manet and Michelle Buvala for this fine, detailed review recognizing the hundreds of hours that go into producing a book like this. 
Here's an excerpt:
"Nancy Manet's book MY EXPANSION, beautifully illustrated by Michelle Buvala, is an original, creative, and compassionate story to encourage and offer guidance to a child who may be different from other children . . . While MY EXPANSION is clearly a children's book, the messages it conveys are as much directed at parents as they are at children. " ~IndieReader
Thank you to everyone on our team that strive for excellence in all our books.