Tag:
award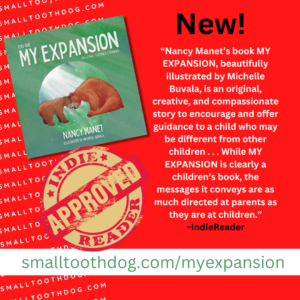 Here's today's news! For our "My Expansion" book, we are honored and humbled to receive a 4-star review, and a "Indie Reader Approved" status today from IndieReader. Congrats to Nancy Manet and Michelle Buvala for this fine, detailed review recognizing the hundreds of hours that go into producing a book like this. 
Here's an excerpt:
"Nancy Manet's book MY EXPANSION, beautifully illustrated by Michelle Buvala, is an original, creative, and compassionate story to encourage and offer guidance to a child who may be different from other children . . . While MY EXPANSION is clearly a children's book, the messages it conveys are as much directed at parents as they are at children. " ~IndieReader
Thank you to everyone on our team that strive for excellence in all our books.
And! Marc Severson's "Don't Throw Me in the Cholla Patch" gets an Honor (honorable mention) in the 2020 Storytelling World Honors event. We're proud of this unique and quirky book (with Francesco Orazzini's great art) and can't wait to bring the next book in the series in late 2020 or early 2021.